The Latest News from Calvary Fellowship Baptist Church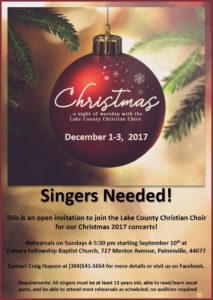 This is an open invitation to join the Lake County Christian Choir for our Christmas 2017 concerts!
The Lake County Christian Choir will begin our 5th season as we start Christmas concert rehearsals on Sunday, September 10th at 4 pm. The choir consists of members from multiple churches in Lake County, and our purpose is to share the good news of the gospel with our community. If you are interested in being in the choir, please contact Craig Hopson at (304) 541 – 5654 or send him a private message on Facebook.
Rehearsals are every Sunday at 4 pm, and new members will be accepted through the month of September. No auditions required. Our r
ehearsals are starting September 10th!
Location: Calvary Fellowship Baptist Church, 727 Mentor Avenue, Painesville, OH 44077
Contact Craig Hopson @ (304) 541- 5654 for more details and information.
Requirements: All singers must be at least 13 years old, able to read/learn vocal parts, and be able to attend most rehearsals as scheduled; no audition required.
---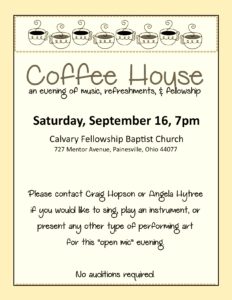 Please join us on Saturday, September 16 at 7 pm for an evening of music, refreshments and fellowship! We will be hosting our 2nd community Coffee House from 7pm – 10pm. This event is open to the community.
If you are interested in being a part of this event, p
lease contact Craig Hopson or Angela Hytree. If you would like to sing, play an instrument or present any other type of performing art for the "open mic" evening, or even if you want to attend to listen, please get in touch with us. No auditions required.
Craig Hopson can be reached at (504) 541-5654.
---