The CFBC Fraternity would like to invite all men to the Lake County Captain's Game on Monday, July 30 @ 7:00 pm vs. Great Lakes. It is Buck Night Monday. $1.00 hot dogs and sodas!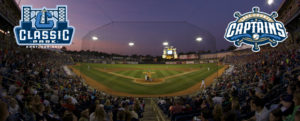 The CFBC Fraternity is a group of Christian men from Calvary Fellowship Baptist Church. Anyone is invited – friends or family!
Sign up in the foyer if you would like to go!
Any questions, please call the church office for more details.